Innovation for Dementia in the Danube Region
---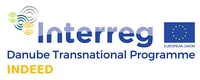 Type Research Project
Funding Bodies
Interreg Danube Transnational Programme
Duration July 1, 2018 - June 30, 2021
Competence Center for Nonprofit Organizations and Social Entrepreneurship

WE

(Details)
Tags
Press 'enter' for creating the tag
Beeck, Constanze (

Former researcher

)
Grünhaus, Christian (Details)

Project Head

Weberberger, Katharina (

Former researcher

)
Wögerbauer, Julia (

Former researcher

)
Abstract (English)
As a consequence of demographic change dementia is becoming a growing challenge for the health and social systems in all countries of the Danube region. To tackle this challenge some regions are not optimally prepared. The most frequent shortcomings include (1) insufficient knowledge and (2) poor cooperation among occupational groups involved in dementia care, as well as (3) lack of dementia-specific facilities such as day care centres or special care units in nursing homes.
Funded by the European Union, the project INDEED (INnovation for DEmentia in thE Danube Region; duration 1.7.2018 – 30.6.2021) is an initiative comprising 20 partners from 10 countries. Its overall objective is to contribute to the improvement of dementia care in the countries of the Danube region and to the implementation of national dementia plans. To this end the project adopts a top-down strategy. INDEED aims at strengthening competences, cooperation and innovation potential of relevant institutions (occupational education and training, policy makers, professional boards, municipal administrations, charities, nursing home operators, social enterprises and start-ups). Through capacity building at the institutional level the project seeks to achieve a broad and sustainable improvement of care practice involving all relevant actors.
For the above institutions three modules will be developed, which will be elaborated in traditional (presentations, seminars, printed documents) and internet-based formats (e-learning programmes, webinars) and evaluated in pilot actions at selected sites. In collaboration with decision makers from ministries and public ad-ministrations the modules will be adjusted to practical and local needs. Finally, the intervention package will be provided to all interested stakeholders within and beyond the project region.
Publications
Unpublished lecture
| | | | |
| --- | --- | --- | --- |
| 2021 | Bogorin, Flavia-Elvira, Wögerbauer, Julia. 2021. Social Innovation in the Field of Dementia. Pilot Actions des Interreg INDEED Projektes, Online in Rumänien, 20.01.21 | (Details) | |
| 2020 | Marc, Mojca, Wögerbauer, Julia. 2020. Social Innovation in the Field of Dementia. Pilot Actions des Interreg INDEED Projektes, Ljubljana/ Celje, 29.09.20 | (Details) | |