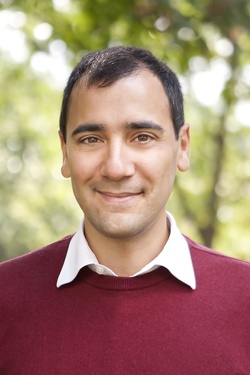 Armon Rezai
Univ.Prof. Dr.
Armon
Rezai
Telephone:

Email:

About me:

Armon Rezai is professor and head of the Institute for Ecological Economics at the Vienna University of Economics and Business (WU Wien). His research interests lie in combining macroeconomic topics such as growth and distribution with environmental outcomes, most importantly climate change. He is also a senior researcher at the International Institute for Applied Systems Analysis (IIASA) and a fellow at CESifo.
Contact information and photo taken from and editable at WU Directory.
CV
since 2018
Professor

2015

-

2018

Associate Professor

2014

-

2016

External Research Affiliate (OxCARRE, Oxford University)

2012

-

2013

Visiting Chair in Energy Economics (University of Cologne)
since 2011
Guest Research Scholar, IIASA
2009
Visiting Researcher, UC Berkeley
2009
Research Intern, United Nations University, World Institute for Development Economics Research

2009

-

2015

Assistent Professor
2008
CAPORDE, University of Cambridge

2006

-

2009

PhD in Economics, New School for Social Research

2006

-

2007

Short Term Consultant, The World Bank
2004
Visiting Student, London School of Economics
Researcher Identifier
No researcher identifier found.
Awards and Honors
2015-2017

FWF Schrödinger Fellowship

2015

Egon-Matzner-Preis
Post-Doc Forschungsvertrag "Political Economy of Environmental Policy"

2011

WU Visiting Fellow at UC Berkeley

2009

Marshallstipendiat

2007-2008

Dean's Fellowship, New School for Social Research
University Fellowship, New School for Social Research

2005-2009

Fulbright Fellowship

2001-2004

Leistungsstipendium
Classifications
Expertise
Activities
Reviewer for a scientific journal
since 2015
Science
since 2015
International Economic Review
since 2014
Nature Climate Change
since 2014
Economic Modelling
since 2013
Environment and Development Economics
since 2011
Journal of Econmic Dynamics and Control
since 2010
Scandinavian Journal of Economics
since 2010
Ecological Economics
Position in administration

2012

-

2014

AG Karriereentwicklung
Projects
2019

2017

2013

2012

2011

2009