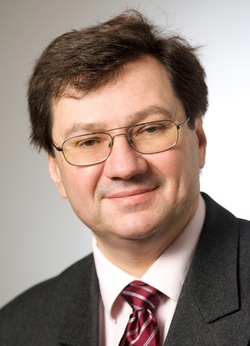 Alfred Taudes
o.Univ.Prof. Mag.Dr.rer.soc.oec.
Alfred
Taudes
Telephone:

Email:
Contact information and photo taken from and editable at WU Directory.
Affiliation
CV
since 2018
Head WU Research Institute Cryptoeconomics

2005

-

2008

Coordinator of WWTF-project "Integrated Demand and Supply Chain Management"

2000

-

2004

Speaker of the Special Research Area Adaptive Models in Economics and Management Science
1997
Visiting Professor, Tsukuba
1993
Full Professor MIS
1993
Professor MIS
1991
Professor MIS
1986
Assistant Professor Applied Computer Science
1981
Assistant Professor Operations Research
Researcher Identifier
No researcher identifier found.
Awards and Honors
2015

Kooperationsbeauftragter des Jahres 2013/14

2009

Distinguished Paper Award WI 2009
VHB Best Paper Award

2008

Nominierung VHB Best Paper Award

2007

Dr. Wolfgang Houska - Anerkennungspreis
Senator-Wilhelm-Wilfling-Förderungspreis

2006

INFORMS Society for Marketing Science Pracitice Prize - Finalist

2005

INFORMS Society for Marketing Science Pracitice Prize - Finalist

2001

WU Best Paper Award

1994

"WU Oscar" für ausgezeichnete Lehrleistungen von der Österreichischen Hochschülerschaft
Classifications
Expertise
adaptive systems / organizational learning
Marketing Engineering
Pricing und Revenue Management
production management
Activities
Reviewer for scientific organization
1998
Jubiläumsfonds der Österreichischen Nationalbank - reviewer
Membership in scientific association

2001

-

2010

Verband der Hochschullehrer für Betriebswirtschaft

2001

-

2010

Gesellschaft für Informatik

2001

-

2010

Association for Computing Machinery (ACM)

2001

-

2010

ADV - Arbeitsgemeinschaft für Datenverarbeitung
Editor of a scientific journal

2001

-

2007

Wirtschaftsinformatik - Member of the Editorial Board
Member of the editorial board
since 2013
Production and Operations Management
since 2008
Journal of Management Information Systems
Reviewer for a scientific journal
since 2010
International Journal of Production Economics - reviewer
since 2005
European Journal of Operational Research - reviewer
2002
Academy of Management Review - Reviewer
since 1993
Journal of Management Information Systems - reviewer
Organization scientific meeting (Conference etc.)
2015
WU Wien - Organisationskommitee VHB Jahrestagung
2014
ERP Future - Organizing committee and reviewer
Positions in public advisory boards, Consultant
since 2012
Internetoffensive - Academic advisor

2009

-

2013

Postmarktkommission - Vice-Member
Position in administration

2009

-

2015

Department Informationssysteme und Prozessmanagement - Head of Department
Academic advisor
since 2016
Waseda University
since 2016
Keio University
since 2008
Universität Kobe
since 2008
Univ. Otaru
since 2008
Tsukuba University
since 2008
Hitotsubashi Universität
Projects
2018

2016

2015

2013

2012

2005

2002

1997

1996