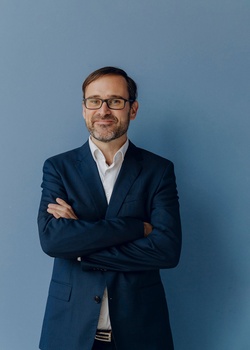 Rudolf Dömötör
Mag.Dr.rer.soc.oec.
Rudolf
Dömötör
Telephone:

Email:
Contact information and photo taken from and editable at WU Directory.
Affiliation
CV
2015
Erskine Fellowship University of Canterbury (NZ)
since 2015
Director WU Entrepreneurship Center
since 2014
Co-Founder Entrepreneurship Avenue

2014

-

2018

Project Head Wissenstransferzentrum Ost (WZT Ost)
since 2013
Managing Director ECN (Entrepreneurship Center Network)

2013

-

2014

Operations Director Research Studio eSPARK
since 2008
Founder innovationsmotor e.U.

2003

-

2008

PhD in Entrepreneurship and Innovation
2003
Graduation
2002
Contract Assistant at the Institute for Entrepreneurship and Innovation
Researcher Identifier
No researcher identifier found.
Awards and Honors
2017

AACSB Entrepreneurship Spotlight Challenge

2008

Rudolf Sallinger Preis (Dissertation)
Classifications
Expertise
Entrepreneurship
Innovation Management
Start-ups
Activities
Position in jury, advisory board, curatorship
since 2015
S&B Award (Rudolf Sallinger Fonds) - Head of Jury
since 2015
Future Founders Challenge (Rudolf Sallinger Fonds) - Member of Jury
since 2004
i2b Businessplan-Initiative - Member of Jury
Research and Teaching Stay

2015

-

2016

University of Canterbury, Centre for Entrepreneurship - Mentoring and lecturing (Summer Startup Programme)