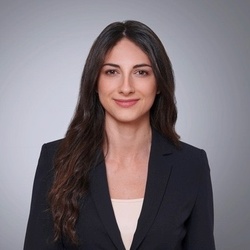 Chiara Fabrizi
Chiara
Fabrizi
MSc.
Telephone:

Email:
Contact information and photo taken from and editable at WU Directory.
Affiliation
CV
2020
Internship - Accounting and Marketing at Uffizi Galleries
2019
Summer courses - Columbia University

2018

-

2020

M.Sc. Managements and Economics in arts, culture, media and entertainment - Bocconi University

2015

-

2018

B.A. Business Administration and Management - Bocconi University
Researcher Identifier
No researcher identifier found.
Awards and Honors
Classifications
No classifications found.
Expertise
Publications
Journal article
| | | | |
| --- | --- | --- | --- |
| 2022 | Schmitt, Jan, Fabrizi, Chiara, Nell, Phillip C. 2022. Die Landschaft von Firmenzentralen in Österreich: Ein Überblick. Wien, Österreich:Institute for International Business. | (Details) | |
Poster presented at an academic conference or symposium
| | | | |
| --- | --- | --- | --- |
| 2021 | Fabrizi, Chiara, Nell, Phillip C. 2021. The path to global scaling is just an entrepreneurial ecosystem away: the case of a digital startup that relocated overseas. European International Business Academy (EIBA), Madrid, Spanien, 10.12.-12.12. | (Details) | |
Research report, expert opinion
| | | | |
| --- | --- | --- | --- |
| 2022 | Schmitt, Jan, Fabrizi, Chiara, Nell, Phillip C. 2022. Die Landschaft von Firmenzentralen in Österreich: Firmenzentralen in Wien. Wien, Österreich:Institute for International Business. | (Details) | |
| | Schmitt, Jan, Fabrizi, Chiara, Nell, Phillip C. 2022. Die Landschaft von Firmenzentralen in Österreich: Internationale Firmenzentralen. Wien, Österreich:Institute for International Business. | (Details) | |
| | Schmitt, Jan, Fabrizi, Chiara, Nell, Phillip C. 2022. Headquarters Landscape in Austria: An Overview. Vienna, Austria:Institute for International Business. | (Details) | |
| | Schmitt, Jan, Fabrizi, Chiara, Nell, Phillip C. 2022. Headquarters Landscape in Austria: International HQs. Vienna, Austria:Institute for International Business. | (Details) | |
| | Schmitt, Jan, Fabrizi, Chiara, Nell, Phillip C. 2022. Headquarters Landscape in Austria: Vienna HQs. Vienna, Austria:Institute for International Business. | (Details) | |