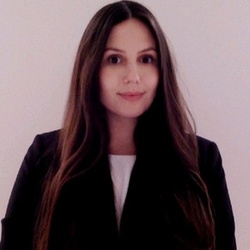 Magdalena Winkler
Magdalena
Winkler
BA, MSc (WU)
Telephone:

Email:
Contact information and photo taken from and editable at WU Directory.
Affiliation
CV
since 2022
Teaching & Research Associate am Institut für Change Management und Management Development
since 2020
WU Vienna, Doctoral Studies in Social and Economic Sciences

2020

-

2022

WU Vienna, Research Assistant at the Competence Center for Nonprofit Organisations and Social Entrepreneurship
Researcher Identifier
No researcher identifier found.
Awards and Honors
Classifications
No classifications found.
Expertise
Publications
Paper presented at an academic conference or symposium
| | | | |
| --- | --- | --- | --- |
| 2022 | Schneeberger, Doris, Winkler, Magdalena. 2022. Emancipating Oppressed and Vulnerable Groups – The Potential of New Product Categories to Disrupt the Status Quo. EDI Conference, Cape Town/online, Südafrika, 23.07. | (Details) | |
| | Mihotić, Lucija, Winkler, Magdalena. 2022. From unspoken to taboo: Communication in family firm processes. 38th EGOS Colloquium, Vienna, Österreich, 06.07.2022-08.07.2022. | (Details) | |
| | Winkler, Magdalena. 2022. To compete, or to collaborate? Navigating the tension between competition and collaboration in nascent markets. 38th EGOS Colloquium, Vienna, Österreich, 06.07.2022-08.07.2022. | (Details) | |
| 2021 | Winkler, Magdalena, Vandor, Peter, Mehrwald, Martin. 2021. How do organisations of the social economy scale across borders? A study on the challenges of internationalising social enterprises. OECD Global Action. The Social and Solidarity Economy: From the Margins to the Mainstream, Paris, Frankreich, 13.09-16.09. | (Details) | |
Research report, expert opinion
| | | | |
| --- | --- | --- | --- |
| 2022 | Vandor, Peter, Millner, Reinhard, Hobodites, Fabian, Matzawrakos, Melina, Winkler, Magdalena. 2022. Austrian Social Enterprise Monitor 2021/2022: Status quo und Potentiale von Sozialunternehmen in Österreich. Wien:WU Wien. | (Details) | |
| 2021 | Vandor, Peter, Winkler, Magdalena, Mehrwald, Martin. 2021. Scaling impact abroad: An analysis and framework of competences for social enterprise internationalisation. Vienna:Vienna University of Economics and Business. | (Details) | |
Unpublished lecture
| | | | |
| --- | --- | --- | --- |
| 2021 | Winkler, Magdalena, Mehrwald, Martin. 2021. It takes a village to internationalise – Insights on the competences and support needs of social entrepreneurs for successfully scaling impact across borders. SEWF Academic Forum 2021, Nova Scotia, 16.11.21 | (Details) | |
| | Winkler, Magdalena, Mehrwald, Martin, Vandor, Peter. 2021. Internationalization of Social Entrepreneurs: A competence framwork. ESESII Consortium Meeting (open), online, 21.07.21 | (Details) | |
Projects
2020

Enabling Social Entrepeneurs to Scale their Impact Internationally (2020-2023) (Details)