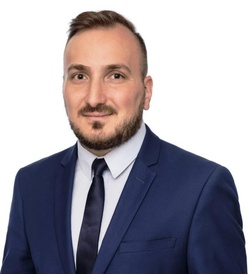 Petar Petrov
Petar
Petrov
LL.M.
Telephone:

Email:

About me:

Petar Petrov is a Research and Teaching Associate at the WU's Competition Law and Digitalization Groupat the Vienna University of Economy and Business (WU). He teaches EU and Austrian competition law and unfair trading practices law. He studied law at the Universities of Vienna, Paris I Panthéon-Sorbonne, Paris II Panthéon-Assas, Strasbourg and at the College of Europe. He has clerked with the European Commission's Directorate-General for Competition, the Bulgarian Ministry of Finance and the Ministry for Foreign Affairs. He has worked in the fields of competition law with international law firms in Brussels, Luxembourg and Munich and is qualified to practice law in Belgium. He is a junior member of the Academic Society for Competition Law and the French Association for Competition Law (AFEC). His doctoral research focuses on the special responsibility of gatekeepers in EU competition law.
Contact information and photo taken from and editable at WU Directory.
Affiliation
CV
2017
Project Consultant

2017

-

2020

Legal Consultant - Antitrust & Competition Law

2016

-

2017

Associate Lawyer
2016
Trainee Lawyer
2015
Legal Consultant - Antitrust & Competition Law
2014
Project Consultant - Associated Editor
2014
Summer Associate - Antitrust & Competition Law
2013
Summer Associate
2012
Summer Associate
Researcher Identifier
No researcher identifier found.
Awards and Honors
Classifications
Expertise
State Aid Law
Digital Markets
European Litigaiton
Merger Control
Foreign Direct Investment Control
IT Law
Antitrust Law
Air Transport Law
Trademark Law
Internal Market Law