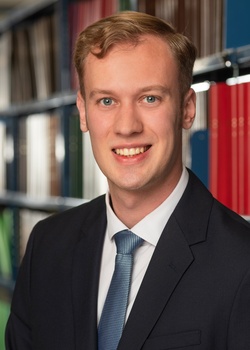 Philipp Walter Scharizer
Philipp Walter
Scharizer
M.Sc.
Telephone:

Email:
Contact information and photo taken from and editable at WU Directory.
Affiliation
CV
since 2020
Pre-Doctoral Research Associate at the Institute for Austrian and International Tax Law

2018

-

2020

Master program in Taxation and Accounting

2016

-

2018

Bachelor of Business Administration and Economics
Researcher Identifier
No researcher identifier found.
Awards and Honors
2020

Prof. Ewald Nowotny Mobilitätsstipendien
Classifications
Expertise
European tax law
International tax law
Austrian tax law
Publications
Master thesis
| | | | |
| --- | --- | --- | --- |
| 2020 | Scharizer, Philipp Walter. 2020. Article 4 OECD-Model Convention – The determination of an indiviual's residence state for tax treaty purposes: Under Practical Implication of the International and European Tax Moot Court 2019/2020. Masterarbeit, Österreichisches und Internationales Steuerrecht. | (Details) | |
Magazine/newspaper article
| | | | |
| --- | --- | --- | --- |
| 2021 | Scharizer, Philipp Walter. 2021. VwGH: Verzinsung von Vorsteuerüberschüssen. LexisNexis Rechtsnews 31501, 29.09.21 | (Details) | |
| | Scharizer, Philipp Walter. 2021. BFG: DBA Schweiz - Einkünfte aus öffentlichen Kassen. LexisNexis Rechtsnews 31365, 25.08.21 | (Details) | |
| | Scharizer, Philipp Walter. 2021. BFG: Hochrechnung nach § 3 Abs 2 EStG bei Bezug von Bildungsteilzeitgeld. ÖStZ, Rechtsnews, 20.08.21 | (Details) | |
| | Scharizer, Philipp Walter. 2021. BFG: Progressionsvorbehalt bei ausländischer Sozialversicherungsrente. ÖStZ, Rechtsnews, 30.07.21 | (Details) | |
| | Scharizer, Philipp Walter. 2021. BFG: Verdeckte Ausschüttung - Vorteilsausgleich. ÖStZ, Rechtsnews, 20.05.21 | (Details) | |
| | Scharizer, Philipp Walter. 2021. BFG: Anwendung der Beteiligungsertragsbefreiung auf Ausschüttungen eines Alternativen Investmentfonds? ÖStZ, Rechtsnews, 28.04.21 | (Details) | |
| | Scharizer, Philipp Walter. 2021. BFG: Sechstelbegünstigung einer Grenzgängerin. ÖStZ, Rechtsnews, 06.04.21 | (Details) | |
| | Scharizer, Philipp Walter. 2021. BFG: Steuerliche Begünstigung eines ausländischen Todesfallkapitals. ÖStZ, Rechtsnews, 11.03.21 | (Details) | |
| | Scharizer, Philipp Walter. 2021. BFG: Kein Abfluss bei Kreditkartenzahlung. ÖStZ, Rechtsnews, 16.02.21 | (Details) | |
| | Scharizer, Philipp Walter. 2021. BFG: Leistungsort von Vermittlungsleistungen. ÖStZ, Rechtsnews, 11.01.21 | (Details) | |
| 2020 | Scharizer, Philipp Walter. 2020. VwGH: Abgabenerhöhung im Rahmen einer Selbstanzeige. ÖStZ, Rechtsnews, 07.12.20 | (Details) | |
| | Scharizer, Philipp Walter. 2020. BFG: Rückzahlungsanträge bei einer zu Unrecht eingehoben Abzugssteuer. ÖStZ, Rechtsnews, 03.11.20 | (Details) | |
| | Scharizer, Philipp Walter. 2020. BFG zum direkten Rückerstattungsanspruch des Leistungsempfängers bei vorzunehmender Vorsteuerberichtigung. ÖStZ, Rechtsnews, 06.10.20 | (Details) | |
| | Scharizer, Philipp Walter. 2020. BFG: Welche Rentenberechnung kommt bei einem vorbehaltenen Wohnungsgebrauchsrecht zur Anwendung? ÖStZ, Rechtsnews, 15.09.20 | (Details) | |
| | Scharizer, Philipp Walter. 2020. BFG: Dreiecksgeschäft und die besonderen Nachweispflichten gemäß Art 25 Abs 4 UStG. ÖStZ, Rechtsnews, 12.08.20 | (Details) | |
| | Scharizer, Philipp Walter. 2020. BFG: Aufwendungen für Familienheimfahrten als Werbungskosten. ÖStZ, Rechtsnews, 20.07.20 | (Details) | |