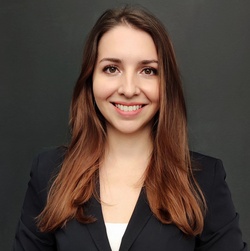 Zlatoslava Savych
Zlatoslava
Savych
MA
Telephone:

Email:
Contact information and photo taken from and editable at WU Directory.
Affiliation
CV
since 2020
Research and Teaching Associate

2018

-

2020

Research and Teaching Assistant, Institute for Slavic Languages, WU Vienna

2017

-

2020

MA English Language and Linguistics, University of Vienna
Researcher Identifier
No researcher identifier found.
Awards and Honors
Classifications
No classifications found.
Expertise
Publications
Journal article
| | | | |
| --- | --- | --- | --- |
| 2021 | Thielemann, Nadine, Göke, Regina, Savych, Zlatoslava. 2021. Motzen und Moral. Eine kontrastiv pragmatische Pilotstudie zur Unzufriedenheitskommunikation am universitären Arbeitsplatz (FR - DE - AT - PL - RU). Zeitschrift für Slawistik. 66 (1), 140-173. | (Details) | |
Paper presented at an academic conference or symposium
| | | | |
| --- | --- | --- | --- |
| 2022 | Hofer-Bonfim, Bernadette, Savych, Zlatoslava, Schnitzer, Johannes. 2022. Reporting on Diversity & Inclusion (D&I) Dimensions across Languages: Comparing D&I Disclosures in German, Italian, Portuguese, Russian & Spanish. Diversity & Inclusion across Languages - Insights into communicative challenges from theory and practice, Vienna, Austria, 29.04-30.04. | (Details) | |
| 2021 | Hofer-Bonfim, Bernadette, Savych, Zlatoslava, Schnitzer, Johannes. 2021. A corpus linguistic analysis of cross-cultural aspects of Diversity and Inclusion disclosure in Corporate Social Responsibility reports. 2021 PLIN Day - "Linguistics applied to Business Language in a multilingual and multicultural world", Louvain-la-Neuve, Belgium, 7.05. | (Details) | |
| | Thielemann, Nadine, Savych, Zlatoslava. 2021. CSR-Kommunikation zwischen unternehmerischem und nationalem Diskurs - am Beispiel ukrainischer Energieunternehmen. National, Transnational, Anational: Konzepte der NATION im europäischen Kontext im 21. Jahrhundert. Jena, Deutschland, 15.04.-17.04.2021. | (Details) | |
| | Savych, Zlatoslava. 2021. Language and communication in the context of migrant care labour: The case of Ukrainian care workers in Austria. Work in progress. ABC Regional Conference, Vienna, Austria, 26.08-28.08. | (Details) | |
| 2020 | Thielemann, Nadine, Savych, Zlatoslava. 2020. Communicating CSR across cultures: A comparative multimodal analysis of the websites of major oil & gas companies in Russia, the US, Poland and Austria. Intercultural Aspects in CSR-communication, Wien, Austria, 20.11-21.11. | (Details) | |
| 2019 | Thielemann, Nadine, Göke, Regina, Savych, Zlatoslava. 2019. Motzen, Moral und Mobilität - oder Was kann die kontrastive Pragmatik zur Kommunikation am universitären Arbeitsplatz sagen? EUKO - europäischen Kulturen der Wirtschaftskommuniktion, Wien, Österreich, 19.-21.9.2019. | (Details) | |
| | Thielemann, Nadine, Savych, Zlatoslava, Göke, Regina. 2019. Pilotstudie zur sprachvergleichenden Realisierung von Beschwerden am universitären Arbeitsplatz (dt/AT, dt/GER, poln/PL, ru/RU, franz/FR). ÖLT - Österreichische Linguistiktagung, Salzburg, Austria, 06.12.-08.12. | (Details) | |
Magazine/newspaper article
| | | | |
| --- | --- | --- | --- |
| 2022 | Thielemann, Nadine, Savych, Zlatoslava. 2022. Conflict cultures in the workplace – what leaders of culturally diverse teams should know. AMBITION magazine, 01.02.22 | (Details) | |
Projects
2021

Language and communication in the context of migrant care labour: The case of Ukrainian care workers in the EU (2021-2025) (Details)