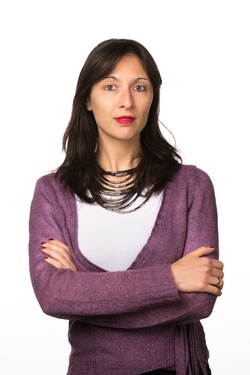 Irene Monasterolo
Irene
Monasterolo
Ph.D.
Telephone:

Email:

About me:

Irene Monasterolo is an Assistant Professor of Climate Economics and Finance at the Institute for Ecological Economics, Vienna University of Economics and Business and a visiting research fellow at Boston University, USA. Irene holds a Ph.D. in Agri-food Economics and Statistics from the University of Bologna, and two post-doctoral specializations in Cambridge (UK) and Boston (USA). Irene has extensive experience in developing policy-relevant academic research on how to align the financial system to the Sustainable Development Goals and the Paris Agreement. Irene has contributed to develop the first climate stress-test methodology, applied to both commercial and development banks' portfolios for introducing climate risk factors into financial risk metrics; the first financial macro-network model for climate policy's risk financial risk evaluation; the EIRIN Stock-Flow Consistent behavioural model to assess financial and distributive effects of green fiscal, monetary policies and green bonds. Her research has been published on top-ranked academic journals, such as Nature Climate Change and Climatic Change. In addition, Irene has been working as a consultant for major development banks (e.g. World Bank, European Investment Bank, Inter-American Development Bank) on climate change mitigation and adaptation. Finally, she leads on the Research Area 'Environment-Economy Interactions' of the European Association for Evolutionary Political Economy (EAEPE), of which she is also a council member since 2018.
Contact information and photo taken from and editable at WU Directory.
Affiliation
CV
since 2020
Visiting researcher at the Energy department, IIASA
2019
Precourt Visiting Scholar at Stanford University
since 2017
Assistant Professor, Climate Economics and Finance
2016
Visiting Scholar at Boston University
2016
European Investment Bank consultant

2015

-

2017

Senior post doc, Boston University
2015
Inter-American Development Bank consultant

2014

-

2015

Confirmed researcher, Italian National Council of Research

2012

-

2015

Post Doc Global Sustainability Institute Cambridge (UK)

2012

-

2013

Erasmus Mundus visiting post-doc, Belgrade university (Serbia)

2012

-

2017

World Bank consultant

2009

-

2012

PhD candidate, Universita' di Bologna
Researcher Identifier
No researcher identifier found.
Awards and Honors
2018

OeNB Maria Schaumeyer Habilitation grant

2015

AISSEC Best PhD Thesis in Development and Transition Economics
Classifications
No classifications found.
Expertise
ESG performance
Green sovereign bonds
Climate Stress-test
Climate finance
Stock-Flow Consistent models
Fossil fuel subsidies