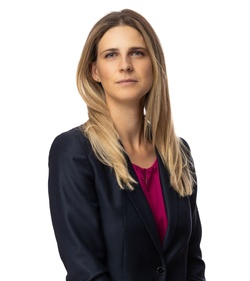 Mihaela Dimitrova
Assoz.Prof. Dr.
Mihaela
Dimitrova
Telephone:

Email:

About me:

Mihaela Nikolaeva Dimitrova is Associate Professor at the Department of Global Business and Trade. Prior to joining WU Vienna, she was Assistant Professor of Management at Oakland University, USA. She holds a PhD from the University of Wisconsin-Milwaukee, USA. Her research interests center around global work experiences. In particular, her focus is on the management of global employees, cross-cultural management as well as employees' proactive behavior and thriving in international environments. Her research has been recognized with several awards at major international academic conferences and has been published in the Journal of Organizational Behavior, Journal of International Business Studies, Journal of World Business, Human Relations and Journal of International Management. She serves on the editorial review boards of Personnel Psychology, Journal of Organizational Behavior and Journal of Global Mobility. At WU Vienna, she teaches courses with a focus on international human resource management, global careers and global human capital analytics.
Contact information and photo taken from and editable at WU Directory.
Affiliation
CV
since 2022
Associate Professor at WU Vienna

2017

-

2021

Assistant Professor at WU Vienna

2014

-

2016

Assistant Professor of Management at Oakland University
2014
PhD in Organizations and Strategic Management from University of Wisconsin-Milwaukee
2009
Master of Science in Human Resources from Marquette University
Researcher Identifier
No researcher identifier found.
Awards and Honors
2021

Excellence in Reviewing Award from Human Resource Management Review
Outstanding Reviewer Award from Journal of Organizational Behavior

2020

Winner of the Best Paper in OB / HRM / OT Award of the IM Division of the Academy of Management (AOM)
WU Award for Top Journal Publication

2018

First Runner-Up for the Journal of Global Mobility Best Paper Award at the European Academy of Management (EURAM) Conference
Winner of the Best International Paper Award of the Careers Division of the Academy of Management (AOM)

2016

AOM Outstanding Reviewer Award

2015

Journal of Global Mobility Outstanding Reviewer Award
Classifications
Expertise
Cross-cultural management
Entrepreneurial behavior
Expatriate management and global mobility
International human resource management
Work-family interface
Activities
Position in jury, advisory board, curatorship
2021
Personnel Psychology - 2021 Best Paper Award Committee for Personnel Psychology
2021
Academy of Management - Jury panel for the Human Resources division International HRM Scholarly Research Award
2020
Academy of Management - Jury panel for the Careers Division Best Symposium Award
2019
Academy of Management - Jury panel for the Careers Division Best International Paper Award
Position in internal committee for appointments
2020
WU Vienna - Committee Member for Full-Professor position in "International Business and CSR"
Position in internal habilitation committee
2021
WU Vienna - Department of Global Business and Trade - Habilitation Committee member
2019
WU Vienna - Department of Global Business and Trade - Habilitation Committee member
Member of the editorial board
since 2021
Journal of Organizational Behavior - Member of the Editorial Review Board
since 2018
Journal of Global Mobility - Member of the Editorial Review Board
since 2017
Personnel Psychology - Member of the Editorial Board
Reviewer for a scientific journal
since 2020
The International Journal of Human Resource Management
since 2020
Junior Management Science
since 2020
Human Resource Management Review
since 2019
Human Resource Management
since 2018
Journal of International Management
since 2017
Journal of World Business
since 2016
Journal of Management
since 2015
Stress and Health
since 2015
Personnel Review
since 2015
Journal of Management Inquiry
since 2014
Journal of Organizational Behavior
since 2014
Journal of Global Mobility
since 2014
Human Resource Management Journal
since 2014
Human Relations
Reviewer for an international conference
2018
IHRM conference
2017
European Academy of Management (EURAM)
since 2010
Academy of Management (AOM)
since 2010
Academy of International Business (AIB)
Position in administration
since 2021
WU Vienna - Senatskommission für Personalentwicklung - Mittelbau
since 2020
WU Vienna - Department Conference - Mittelbau representative
Supervisor dissertation

2017

-

2020

University of Texas - Rio Grande Valley - External committee member
Publications
Journal article
| | | | |
| --- | --- | --- | --- |
| 2022 | Cerar, Jelena, Dimitrova, Mihaela, Nell, Phillip C. 2022. Fostering operational management "Best Practices" in subsidiary plants in the Western Balkans: The role of MNC home-country environment and resource allocation. Journal of International Management. 28 (2) | (Details) | |
| 2021 | Lazarova, Mila, Dimitrova, Mihaela, Dickmann, Michael, Brewster, Chris, Cerdin, Jean-Luc. 2021. Career satisfaction of expatriates in humanitarian inter-governmental organizations. Journal of World Business. 56 (4) | (Details) | |
| | Reiche, B Sebastian, Dimitrova, Mihaela, Westman, Mina, Chen, Shoshi, Wurtz, Olivier, Lazarova, Mila, Shaffer, Margaret. 2021. Expatriate Work Role Engagement and the Work-Family Interface: A Conditional Crossover and Spillover Perspective. Human Relations. | (Details) | |
| 2020 | Dimitrova, Mihaela, Reiche, Sebastian, Westman, Mina, Chen, Shoshi, Wurtz, Olivier, Lazarova, Mila, Shaffer, Margaret. 2020. Expatriate Work Role Engagement: A Conditional Crossover and Spillover Perspective. Academy of Management Proceedings. 2020 (1) | (Details) | |
| | Dimitrova, Mihaela, Chia, Sherwin, Shaffer, Margaret, Tay-Lee, Cheryl. 2020. Forgotten travelers: Adjustment and career implications of international business travel for expatriates. Journal of International Management. 26 (1) | (Details) | |
| | Dimitrova, Mihaela. 2020. Of Discovery and Dread: The Importance of Work Challenges for International Business Travelers' Thriving and Global Role Turnover Intentions. Journal of Organizational Behavior. 41 (4), 369-383. | (Details) | |
| 2016 | Shaffer, Margaret, Reiche, B Sebastian, Dimitrova, Mihaela, Lazarova, Mila, Chen, Shoshi, Westman, Mina, Wurtz, Olivier. 2016. Work and family role adjustment of different types of global professionals: Scale development and validation. Journal of International Business Studies JIBS 47 (2), 113-139. | (Details) | |
| 2012 | Lau, Victor, Dimitrova, Mihaela, Shaffer, Margaret, Davidkov, Tzvetan, Yordanova, Desislava. 2012. Entrepreneurial readiness and firm growth: An integrated etic and emic approach. Journal of International Management 18 (2), 147-159. | (Details) | |
Chapter in edited volume
| | | | |
| --- | --- | --- | --- |
| 2018 | Dimitrova, Mihaela. 2018. Expatriation and the Work–Family Interface. In: The Cambridge Handbook of the Global Work – Family Interface, Hrsg. K. M. Shockley, W. Shen, R. C. Johnson, 479-494. 26: Cambridge University Press. | (Details) | |
Paper presented at an academic conference or symposium
| | | | |
| --- | --- | --- | --- |
| 2020 | Dimitrova, Mihaela, Reiche, Sebastian, Westman, Mina, Chen, Shoshi, Wurtz, Olivier, Lazarova, Mila, Shaffer, Margaret. 2020. Expatriate Work Role Engagement: A Conditional Crossover and Spillover Perspective. Academy of Management Conference, Vancouver, Canada, 07.08-11.08. | (Details) | |
| | Lazarova, Mila, Wurtz, Olivier, Dimitrova, Mihaela, Shaffer, Margaret. 2020. Global career success of diplomats. 1st Careers Division (AOM) Community Conference, Vienna, Österreich, 14.2.-15.2. | (Details) | |
| | Cerar, Jelena, Dimitrova, Mihaela, Nell, Phillip C. 2020. Management Practices in CEE Transition Economies: The Influence of MNC Resources. Academy of International Business (AIB) Annual Meeting, Miami, Vereinigte Staaten/USA, 02.07.-06.07. | (Details) | |
| | Cerar, Jelena, Dimitrova, Mihaela, Nell, Phillip C. 2020. MNC resources and country of origin – a key to good operational management practices in subsidiary plants in the Western Balkans? European International Business Academy (EIBA), Online, Belgien, 10.12.-12.12. | (Details) | |
| | Kraimer, Maria, Dimitrova, Mihaela, Shaffer, Margaret, Truxillo, Donald, Wille, Bart. 2020. Publishing Careers Research in Personnel Psychology (and other Top-Tier Journals). 1st Careers Division (AOM) Community Conference, Vienna, Austria, 14.2.-15.2. | (Details) | |
| | Lazarova, Mila, Mayrhofer, Wolfgang, Cotton, Rick, De Vos, Ans, Dimitrova, Mihaela, Dysvik, Anders, Forrier, Anneleen, Gunz, Hugh, Kozhevnikov, Andrew, Louisgrand, Nathalie, Reiss, Lea Katharina, Shaffer, Margaret, Dickmann, Michael, Casado, Tania. 2020. Teaching about Careers in Turbulent Times. 1st Careers Division Community Conference, Vienna, Österreich, 14.2.-15.2. | (Details) | |
| 2019 | Lazarova, Mila, Dimitrova, Mihaela, Dickmann, Michael, Brewster, Chris, Cerdin, Jean-Luc. 2019. Career management, hardship locations, and career motivation: What influences IGO expatriates' career success? Academy of International Business, Copenhagen, Denmark, 24.06-27.06. | (Details) | |
| | Dimitrova, Mihaela, Zipper, Viktoriya, Fekete, Julia. 2019. Global talent management: Relevance and practices in internationally active SMEs. 8TH EIASM Workshop on Talent Management, Toulouse, Frankreich, 30.09-01.10. | (Details) | |
| | Dimitrova, Mihaela. 2019. Of Discovery and Dread: Unpacking the Complex Effects of International Business Travel Frequency. Academy of Management, Boston, MA, United States/USA, 09.08-13.08. | (Details) | |
| 2018 | Westman, Mina, Dimitrova, Mihaela, Chen, Shoshi , Reiche, Sebastian, Lazarova, Mila, Shaffer, Margaret, Wurtz, Olivier. 2018. Expatriate Family Role Engagement: A Spillover and Crossover Perspective . European Academy of Management Conference, Reykjavik, Iceland, 19.06-22.06. | (Details) | |
| | Dimitrova, Mihaela, Chia, Sherwin, Tay, Cheryl. 2018. Expatriates on the Go: International Business Travel during Expatriation. Academy of Management Meeting, Chicago, United States/USA, 10.08-14.08. | (Details) | |
| | Lazarova, Mila , Dickmann, Michael , Dimitrova, Mihaela, Brewster, Chris, Cerdin, Jean-Luc . 2018. Expatriation success in an inter-governmental organization: Career outcomes in easy and hardship duty stations. 15th International Conference on Human Resource Management, Madrid, Spain, 13.06-15.06. | (Details) | |
| 2017 | Dimitrova, Mihaela. 2017. Challenges of the Work-Family Interface during Expatriation. Academy of International Business Conference, Dubai, United Arab Emirates, 02.06-05.06. | (Details) | |
| | Dimitrova, Mihaela, Chia, Sherwin, Shaffer, Margaret, Tay-Lee, Cheryl. 2017. International Business Travel in the Context of Expatriation. EURAM Conference, Glasgow, Scotland, United Kingdom, 21.06-24.06. | (Details) | |
| | Lazarova, Mila, Dimitrova, Mihaela, Shaffer, Margaret, Wurtz, Olivier, Westman, Mina, Chen, Shoshi. 2017. Unravelling the Relationships among Assignment Success Indicators: Tests of Competing Models. Academy of Management Conference, Atlanta, GA, United States/USA, 04.08 - 08.08. | (Details) | |
| 2016 | Lazarova, Mila, Dimitrova, Mihaela. 2016. An expat is an expat is an expat? Exploring the diversity of global work experiences. Academy of International Business Conference, New Orleans, LA, United States/USA, 27.06-30.06. | (Details) | |
| | Westman, Mina, Dimitrova, Mihaela, Chen, Shoshi, Reiche, B Sebastian, Lazarova, Mila, Wurtz, Olivier. 2016. The relationship between spouse family resources and expatriates¿ work-role adjustment: The mediating role of family-role adjustment. Work and Family Research Network Conference, Washington DC, United States/USA, 23.06-25.06. | (Details) | |
| | Ren, Hong, Zhang, Mian, Dimitrova, Mihaela, Shaffer, Margaret, Lazarova, Mila. 2016. Unintended consequences of material resource allocation among host-country nationals and returnees. Academy of Management Conference, Anaheim, CA, United States/USA, 05.08-09.08. | (Details) | |
| 2015 | Singh, Romila, Wan, Min, Dimitrova, Mihaela, Luk, Dora. 2015. A three study multi-source examination of the spillover-crossover model of work-family interface. Academy of Management Conference, Vancouver, Canada, 07.08-11.08. | (Details) | |
| | Dimitrova, Mihaela, Shaffer, Margaret. 2015. That which does not kill us makes us stronger: Effects of work and family demands on international business travelers' adjustment and subsequent career satisfaction. Academy of International Business Conference, Bangalore, India, 27.06-30.06. | (Details) | |
| 2014 | Dimitrova, Mihaela, Shaffer, Margaret. 2014. Interaction effects of job demands on daily goal completion satisfaction and daily work engagement. Academy of Management Conference, Philadelphia, PA, United States/USA, 01.08-05.08. | (Details) | |
| | Westman, Mina, Chen, Shoshi, Dimitrova, Mihaela, Reiche, B Sebastian, Lazarova, Mila, Shaffer, Margaret. 2014. International assignees¿ work and family role performance: A demands and resources perspective. Work and Family Researchers Network Conference, New York, NY, United States/USA, 19.06-21.06. | (Details) | |
| | Dimitrova, Mihaela, Shaffer, Margaret. 2014. International business travelers¿ career satisfaction: Complex effects of work and family adjustment and demands. 12th EIASM Workshop on International Management, Copenhagen, Denmark, 24.10-25.10. | (Details) | |
| 2013 | Shaffer, Margaret, Reiche, B Sebastian, Dimitrova, Mihaela, Lazarova, Mila, Chen, Shoshi, Westman, Mina. 2013. Expatriate work and family role adjustment: Scale development and validation. Academy of International Business Conference, Istanbul, Turkey, 03.07-06.07. | (Details) | |
| | Dimitrova, Mihaela, Yunlu, Dilek, Lau, Victor, Shaffer, Margaret, Davidkov, Tzvetan, Yordanova, Desislava. 2013. Internalizing legitimacy: How entrepreneurs' perceptions of their status in society increases innovative behaviors. Academy of International Business Conference, Istanbul, Turkey, 03.07-06.07. | (Details) | |
| | Hsu, Yu-Shan, Luk, Dora, Dimitrova, Mihaela, Miller, Gloria, Shaffer, Margaret. 2013. The interplay between personal, role and collective identities in the work-family interface. Academy of Management Conference, Orlando, FL, United States/USA, 09.08-13.08. | (Details) | |
Projects
2021

Proactive adaptation behaviors of expatriate newcomers: A dynamic perspective on the expatriate adjustment process (2021-2022) (Details)