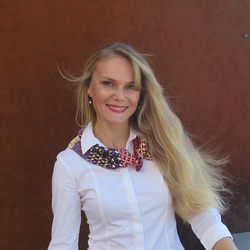 Viktoriya Zipper
Dr.
Viktoriya
Zipper
Telephone:

Email:

About me:

Senior Lecturer Post Doc Master Programme ExInt
Contact information and photo taken from and editable at WU Directory.
Affiliation
CV
2019
Visiting Professor, teaching and research stay, UEH University of Economics Ho Chi Min City
2019
Visiting Professor, International Sommer University, Universitas Gadjah Mada/Jogja/Indonesia
2019
CEEPUS Scholarship, Visiting Professor, Teaching and Research, University of Ljubljana Faculty of Economics (CEEPUS), Master Programme
since 2016
Senior Lecturer Post Doc/ Master Export and Internationalization

2013

-

2016

Lecturer, University of Applied Science (Campus Vienna) / Master programme Political Management: Cross Cultural Leadership in CEE

2013

-

2016

Lecturer, University of Applied Sciences (Upper Austria Campus Steyr) / MBA and Bachelor: Politics, Culture and Religion of former USSR countries

2013

-

2016

Lecturer, University of Applied Science (BFI Vienna) / Master and Bachelor Programmes: Ethno-Marketing, Cross Cultural Management, Internationalization strategies of Austrian SMEs and global MNEs

2012

-

2013

Lecturer, University of Applied Science (Management and Communication of the Viennese Chamber of Commerce) / Master Programme HRM: Cross Cultural Management in IHRM

2011

-

2015

Lecturer, University of Applied Science (Campus 02 Graz) / Master and Bachelor in International Marketing and Sales: International Product and Branding Policy, Entering foreign Markets, Cross Cultural Business Cases
2005
Lecturer, WU Wien / Eastern European Law Research Institute: Foreign Direct Investment in Ukraine
Researcher Identifier
Awards and Honors
2018

Supervisor of a nominee for FIW Award for female graduates
Supervisor of a nominee for best thesis Award in the Category "Integration and Migration in Austria", Austrian Integration Fund
Supervisor of a nominee for PRVA Master Thesis Award

2017

Supervisor of a nominee in the Category Best Master Thesis Award, WU Wien

2013

Merkur Award, nominated in Best Economic Project

2012

MiA Award, nominated in economics
Classifications
Expertise
Born Globals, Born Again Globals, Hidden Champions
Ethnic markets
Global Marketing
CIS coutries
Cross Culturall management
International Management
International Marketing
SME Internationalization
Russia
Emerging Markets
Ukraine
Central Eastern Europe
Activities
Position in jury, advisory board, curatorship
since 2017
WU Wien Senate - Principal member of the Advisory Committee
Reviewer for scientific organization
2018
EIBA - Reviewer in 4 Tracks: Internationalization of firms and markets – the case of CEE markets; SMEs and international entrepreneurship; International HRM and cross-cultural issues; International Marketing
since 2016
Austrian Academy of Sciences / Österreichische Akademie der Wissenschaften - Reviewer (CEE Focus) for Austrian Academy of Sciences
since 2014
University of applied sciences Upper Austria, Campus Steyr - Reviewer of the annual Conference Intercultural Perspectives in Global Business and HR Management
Reviewer for a scientific journal
since 2019
International Journal of Export Marketing - Reviewer
Organization other meeting (Excursion etc.)
2017
Competence Center Emerging Markets & CEE in Cooperation with Master Programme Export and Internationalization Management - Panel discussion: Crisis and war in Ukraine, "business as usual" regardless? Organization and Moderation.

2016

-

2019

WU Wien - Ongoing organization and moderation of ExInt Cercles
2011
HR Circle - Speaker: Internationalization - is there "the right path", the one and only proper way?
Memberships in corporate advisory boards, Leading positions in corporations

2009

-

2013

UNIQA Real Estate / Rustler International - Head of Marketing
since 2008
Victory Cross Culture Consulting - Founder and CEO
Research Cooperation

2011

-

2012

Centrope Academy - Assessment and Qualification role in the field of Cross Cultural Communication in Centrope Region (Hungary, Slovakia, Czech Republic, Austria)
2011
Academy of National Economy under the Government of Russian Federation - Leadership training programme, held for members of Russian Government

2009

-

2011

WIFI International - Internationalization and intercultural communication Hungary-Austria. Training documents, program for cross-border cooperation of SMEs from Austria and Hungary. OPTICOM Project.

2009

-

2012

TUEV-SUED Ukraine Academy - Leadership training programme, held for Ukrainian executives cooperating with Germans
Attendance scientific meeting (Conference etc.)
2019
The International Society for the Scholarship of Teaching & Learning (ISSOTL) - Paper Presentation, Panel Discussion
2017
BASEES Annual Conference 2017, British Association for East European Studies - Paper presentation, Panel Discussion
2016
EIBA - Poster presentation
2014
University of applied sciences Upper Austria, Campus Steyr - Speaker at the CEE Symposium "Cross Cultural Challenges of Austrian Companies in Ukraine in Sales and Marketing"
since 2014
Entrepreneurship Summit Vienna - Open your eyes - Entreneurship in times of Globalization, on its way to cross cultural awareness
2012
Austrian Economic Chamber in cooperation with WU Wien - Speaker at the International Business Forum "Latin America meets Central and Eastern Europe"
2010
ITAP International - Discussant, CEE Focus
Other occupation

2009

-

2017

Global Blue Tax Refund - Cultural Sales Executive's Supervisor, Russia Expert (luxury goods)

2005

-

2008

Lower Austrian Government/ NÖ Landesregierung - Senior Consultant Internationalization (SMEs, CEE Focus)
Other scientific activities
2017
Kinderuni - Lecturer at "Summer University for Kids"
Projects
2018

Contribution and importance of flexible performance assessment to sustainable, self-regulatory learning (2018-2019) (Details)