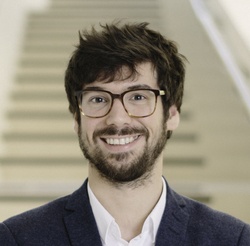 Baris Pascal Güntürkün
Assist.Prof. Dr.
Baris Pascal
Güntürkün
Telephone:

Email:

About me:

Pascal Güntürkün is assistant professor at the Department of Marketing at WU Vienna. He studied management and economics at the Ruhr-University of Bochum (Germany) from where he also obtained his doctoral degree in business administration. His research connects the core marketing disciplines of relationship management and consumer behavior and is guided by a strong empirical focus. Emanating from this background, he aims to address practically relevant and academically important research questions which offer rigorous yet actionable insights for practitioners and advance theoretical knowledge in marketing. Pascal's current research interests especially focus on customer engagement in coproduction processes, strategic customer relationship management, corporate social responsibility, and social media usage in charity marketing. His work has been published in top tier academic journals, such as the _Journal of Marketing_, and awarded at international academic conferences. The paper entitled _"Engaging Customers in Coproduction Processes – How Value Enhancing and Intensity Reducing Communication Strategies Mitigate the Negative Effects of Coproduction Intensity"_, co-authored by Till Haumann, Laura-Marie Schons and Jan Wieseke, was selected for the _Overall Best Paper Award_ and as _Best in Track (Special Topics)_ at Winter AMA Marketing Educators' Conference 2014.
Contact information and photo taken from and editable at WU Directory.
CV
since 2016
Assistant Professor, Department of Marketing, WU Vienna University of Economics and Business (AT)

2015

-

2016

Post-Doctoral Researcher, Sales & Marketing Department, Ruhr-University of Bochum (GER)

2010

-

2015

Research Assistant, Sales & Marketing Department, Ruhr-University of Bochum (GER)

2007

-

2010

Student Research Assistant, Department of Marketing, Ruhr-University of Bochum (GER)
Researcher Identifier
No researcher identifier found.
Awards and Honors
2016

Wissenschaftspreis Dissertation Award Finalist, for excellent scientific work with high relevance to Retail Management and Marketing, EHI Foundation and GS1 Germany

2015

Büropa Dissertation Award for Research in Retailing, Büropa-Foundation within the Association for the Promotion of Science and Humanities in Germany
Gebrüder-Deschauer Award for outstanding dissertations at the Faculty of Management & Economics, Society of the Supporters of the Ruhr-University of Bochum (GdF), Ruhr-University of Bochum
Paul H. Repplinger Dissertation Award for Research in Retail Management and Marketing, Society of Sponsors of the Institute for Empirical Economic Research at the University of Saarland

2014

Best in Conference Award, Winter Marketing Educators' Conference 2014, Orlando, FL, USA
Best in Track Award (Special Topics), American Marketing Association, Winter Marketing Educators' Conference 2014, Orlando, FL, USA

2010

Globalpark Diploma Thesis Award for Applied Online-Marketing Research, Globalpark AG, Mannheim
Classifications
Expertise
E-Commerce & Social Media
Customer Engagement in Coproduction Processes
Employer Branding & Internal Marketing
Corporate Social Responsibility & Scandals
Activities
Reviewer for scientific organization
since 2018
Verband der Hochschullehrer für Betriebswirtschaft - Reviewer
since 2018
Österreichischer Austauschdienst - Reviewer
Membership in scientific association
since 2018
European Marketing Academy (EMAC) - Member
since 2015
American Marketing Association - Membership
Reviewer for a scientific journal
since 2017
Corporate Reputation Review - Reviewer
Reviewer for an international conference
since 2018
European Marketing Academy (EMAC) - Reviewer
since 2016
American Marketing Association - Reviewer (Winter & Summer Academic Conference)
Projects
2018

Using impact communication and social media to increase donor retention and new donor acquisition in charity marketing (2018-2018) (Details)