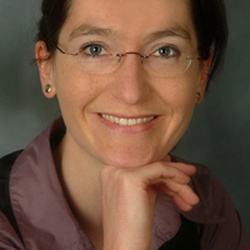 Nadine Thielemann
Univ.Prof. Dr.phil.
Nadine
Thielemann
M.A.
Telephone:

Email:
Contact information and photo taken from and editable at WU Directory.
Affiliation
CV
since 2019
international partner in the project "Smart Communication: The situated practices of mobile technology and digital literacies" funded by the Finnish academiy of Science and headed by prod. dr. Florence Oloff
since 2016
affiliated professor at the WU Competence Center for Emerging Markets & Central and Eastern Europe
2016
postdoctoral qualification (thesis & exam), required to teach Slavic Studies/Linguistics, awarded by The University of Hamburg
since 2015
full professor (Slavic Linguistics with a focus on Russian and Intercultural Communication), Institute for Slavic Languages, Vienna University of Economics and Business
since 2015
international partner in Modul 2. Multimodal and Mediatized Communication: Digital Culturogical Analysis (MuCoDiCA) (headed by Prof. Dr. Silvia Bonacchi, Uni Warsaw), DARIAH-PL (Digital Applied Linguistics and Translation Studies (DiALTra)

2011

-

2015

postdoc, University of Hamburg
2008
PhD (Slavic Linguistics)

2005

-

2011

lecturer/researcher, University of Potsdam

2003

-

2004

lecturer (fellowship awarded by Robert-Bosch Foundation) Ivan Franko University Lviv (Ukraine)

1996

-

2002

Slavic Studies and Political Science at Freiburg i. Brsg., Kazan (DAAD grant) and Cracow (Erasmus grant)
Researcher Identifier
No researcher identifier found.
Awards and Honors
Classifications
Expertise
pragmatics, CA, Interactional Linguistics, arguing in text and talk, linguistics of humor, discourse analysis, Cognitive Linguistics, Slavic Languages (Russian, Polish)
Activities
Position in committee for appointments
2016
Universität Hamburg - external member
Position in habilitation committee

2017

-

2018

Universität Hamburg - external reviewer of a postdoctoral thesis (Slavic Studies/Linguistics)
Position in internal committee for appointments

2019

-

2020

Wirtschaftsuniversität Wien (WU), Dept. Wirtschaftskommunikation - member
2019
Wirtschaftsuniversität Wien (WU), Dept. Welthandel - Mitglied (Nachfolge Moser, SME / IB)
Position in internal habilitation committee
2018
WU - member
Reviewer for scientific organization
2015
NSF - reviewer
2015
DFG - reviewer
Membership in scientific association
since 2015
Österreichischer Slavistenverband - member
since 2009
Deutscher Slavistenverband - member
since 2008
International Pragmatics Association - member
since 2007
Slavic Linguistics Society - member

2006

-

2015

POLYSLAV - member
Member of the editorial board
since 2019
Oxford Encyclopedia of Slavic Languages, Oxford University Press - associate editor (Pragmatics)
Reviewer for a scientific journal
since 2018
tekst i dyskurs - text und diskurs - reviewer
since 2018
Languages in Contrast - reviewer
since 2018
Journal of Politeness Research: Language, Behaviour, Culture - reviewer
2015
Zeitschrift für Slavische Philologie - reviewer
since 2014
Zeitschrift für Slawistik - reviewer
2013
Multilingua - reviewer
Other position in a scientific journal
since 2018
Applied Linguistics Papers - member of scientific advisory board
Series editor
since 2016
Specimina philologiae Slavicae; Kubon & Sagner (gemeinsam mit H. Kuße, P. Kosta, F. Schindler und B. Sonnenhauser)
since 2007
Potsdam Linguistic Investigations; Peter Lang (gemeinsam mit P. Kosta, G. Haßler, L. Schürcks und T. Radeva-Bork)
Reviewer for an international conference

2015

-

2016

ALA 2016 - Languages for Life: Educational, Professional and Social Contexts - reviewer
Organization scientific meeting (Conference etc.)
2018
WU, Institut für Slawische Sprachen, & Institute for English Business Communication - Business Communication East and West
2017
15th International Pragmatics Conference (IPrA) Belfast - Panel "Creating worlds from the inside: Turn-initial positions as Creators of Discourses and Worlds" (togerther with Nicole Richter and Peter Kosta)
2016
Institut für Slawische Sprachen, Department für Fremdsprachliche Wirtschaftskommunikation - Workshop Transcription with EXMARALDA (with Timm Lehmberg, HZSK UHH) (1.-2.12.2016)
2015
Deutscher Slavistentag Gießen (1.-3.10.2015) - Panel " Urban Voices - Linguistic and communicative diversity in the urban space"
Organization other meeting (Excursion etc.)
2018
WU matters WU talks - public lecture (gemeinsam mit Gerlinde Mautner): "Die Macht der Sprache(n) - auf Spurensuche in Wirtschaft und Kultur"
2017
WU (CEE Cercle, Institut für Slawische Sprachen) - "Dekoder - Russland entschlüsseln" (Vortrag mit Leonid Klimov inkl. anschließende Publikumsdiskussion (29.11.2017)))
2016
WU (CEE Cercle, Institut für Slawische Sprachen, PAIWG) - Panel discussion: Poland and its economy - a story of success
Position in administration
since 2018
Department für fremdsprachliche Wirtschaftskommunikation WU - Head of Department
since 2016
WU Konvent - member

2016

-

2019

Senatskommission für Finanzen&Campusmanagement (WU) - Hauptmitglied
since 2015
Institut für Slawische Sprachen - Head of Institute
Research and Teaching Stay
2016
Institut für Slavistik, Universität Innsbruck - Workshop: Conversation Analysis (10.-11.11.2016)
2013
Staatliche Universität Sankt Petersburg - research fellowship (DAAD) (9/2013)
Candidate for a chair
2017
Friedrich-Schiller Universität Jena - 2. Platz Professur für Slavische Sprachwissenschaft