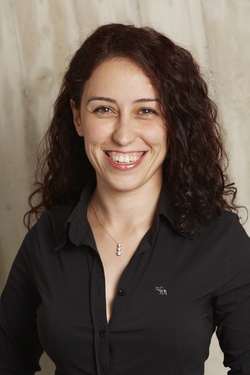 Sila Ada
Sila
Ada
M.S.
Email:

About me:

Sıla is a first-year doctoral candidate and research associate at the Institute for Interactive Marketing & Social Media (IMSM), Vienna University of Economics and Business (WU). She holds a Master of Science in Industrial Engineering with majors in Quantitative Finance from Bogazici University, Turkey. Prior to joining the PhD program, she worked in a Marketing and Advertising Agency for almost one year which helps to improve her technical expertise in online marketing by providing sales optimization and performing data analysis. After then, in parallel with her MSc, she has worked as a research and teaching assistant at Istanbul Kultur University. **Research Interests** * Display advertising * Real-time bidding * Private ad exchanges **Short Bio** _2015-present_ Teaching and Research Associate at the Institute of Interactive Marketing & Social Media, WU (Vienna University of Economics and Business) _2012-2015_ Teaching and Research Assistant at Industrial Engineering, Istanbul Kultur University, Turkey _2010-2012_ MSc in Industrial Engineering, Boğaziçi University, Turkey _2010-2011_ Analyst in Online Marketing and Advertising Agency, Turkey _2005-2009_ BSc in Mathematics, Yıldız Technical University, Turkey
Contact information and photo taken from and editable at WU Directory.
Affiliation
CV
No curriculum entries found.
Researcher Identifier
No researcher identifier found.
Awards and Honors
Classifications
No classifications found.
Expertise
Publications
Journal article
| | | | |
| --- | --- | --- | --- |
| 2022 | Ada, Sila, Abou Nabout, Nadia, McDonnell Feit, Elea. 2022. Context Information Can Increase Revenue in Online Display Advertising Auctions: Evidence from a Policy Change. Journal of Marketing Research (JMR). | (Details) | |
Chapter in edited volume
| | | | |
| --- | --- | --- | --- |
| 2020 | Abou Nabout, Nadia, Ada, Sila. 2020. Overcoming Quality Issues in Digital Display Advertising Using Digital Dashboards. In: The Routledge Companion to Strategic Marketing, Hrsg. Bodo B. Schlegelmilch, Russell S. Winer, 449-465. New York: Routledge. | (Details) | |
Paper presented at an academic conference or symposium
| | | | |
| --- | --- | --- | --- |
| 2019 | Ada, Sila, Abou Nabout, Nadia, McDonnell Feit, Elea. 2019. Placement Disclosure in Ad Auctions: Evidence From a Policy Change. Workshop on Information Systems and Economics, München, Germany, 19.12.2019. | (Details) | |
| 2018 | Ada, Sila, Abou Nabout, Nadia. 2018. Less is more: Effect of ad clutter in online display advertising. 40th INFORMS Marketing Science Conference, Philadelphia, Vereinigte Staaten/USA, 14.06-16.06. | (Details) | |
| | Ada, Sila, Abou Nabout, Nadia. 2018. Less is more: Effect of ad clutter in online display advertising. 47th Conference of the European Marketing Academy (EMAC), Glasgow, Großbritannien, 29.05-01.06. | (Details) | |
| 2017 | Ada, Sila, Abou Nabout, Nadia. 2017. Disclosing information about ad placements in online display advertising: The effect on demand and price. 39th INFORMS Marketing Science Conference, Los Angeles, Vereinigte Staaten/USA, 07.06-10.06. | (Details) | |
| | Ada, Sila, Abou Nabout, Nadia. 2017. Disclosing information about ad placements in online display advertising: The effect on demand and price. 30th EMAC Doctoral Colloquium, Groningen, Netherlands, 22.05 - 23.05. | (Details) | |
| | Ada, Sila, Abou Nabout, Nadia. 2017. Disclosing information about ad placements in online display advertising: The effect on demand and price. 46th Conference of the European Marketing Academy (EMAC), Groningen, Niederlande, 23.05-26.05. | (Details) | |
| 2016 | Ada, Sila, Abou Nabout, Nadia. 2016. Publisher Selection at Private Ad Exchanges. 45th Conference of the European Marketing Academy (EMAC), Oslo, Norway, 24.05-27.05. | (Details) | |
| | Ada, Sila, Abou Nabout, Nadia. 2016. Publisher Selection at Private Ad Exchanges. 38th INFORMS Marketing Science Conference, Shanghai, China, 16.06.-18.06. | (Details) | |