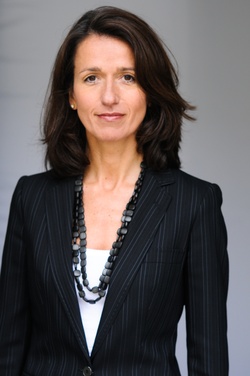 Barbara Schachermayer-Sporn
Univ.Prof. Mag.Dr.rer.soc.oec.
Barbara
Schachermayer-Sporn
Telephone:

Email:
Contact information and photo taken from and editable at WU Directory.
Affiliation
CV
2019
Visiting Professor Stanford University

2018

-

2019

Visiting Professor New York University
since 2015
Director Institute for Higher Education Management

2015

-

2016

Visiting Professor - University of Zurich (Departmennt of Business Administration and CHESS Center for Higher Education and Science Studies
since 2006
Full Professor for University Management
1999
Promotion to Associate Professor
1997
Visiting Research Fellow Stanford Institute for Higher Education Research

1996

-

1997

Acting Assistant Professer - Stanford University, School of Education

1992

-

1994

Visiting Research Scholar - New York University, The University of Michigan, University of California at Berkley
1991
Graduation PhD in Business Administration
1988
Graduation Master in Business Administration
Researcher Identifier
No researcher identifier found.
Awards and Honors
2015

Großes Ehrenzeichen für Verdienste um die Republik Österreich

2000

Förderung für WU-Assistenten-Kleinprojekte, Wirtschaftsuniversität Wien

1999

Best Paper Award 1999, Verband der Hochschullehrer für Betriebswirtschaft
Förderungspreis der Senator Wilhelm Wilfling Stiftung, Wirtschaftsuniversität Wien

1993

Erwin-Schrödinger-Auslandsstipendium, Fonds zur Förderung der Wissenschaftlichen Forschung (FWF)

1992

Auslandsstipendium der Jubiläumsstiftung der Oesterreichischen Nationalbank
Fulbright Reisestipendium, Fulbright Commission
Stipendium "Förderung junger Wissenschaftler", Exportakademie der Bundeskammer der gewerblichen Wirtschaft

1991

Leistungsstipendium der Wirtschaftsuniversität Wien
Classifications
Expertise
higher education research
university management
change management
Activities
Position in scientific committee

2008

-

2015

Austrian American Educational Commission - Fulbright Commission
2001
Verband der Hochschullehrer für Betriebswirtschaft - Wissenschaftliche Kommission "Hochschulmanagement"
Membership in scientific association
since 2019
Fonds zur Förderung der Wissenschaftlichen Forschung (FWF) - Member of the supervisory board
since 2017
Chartered Association of Business Schools - Academic Journal Guide Committee (AJGC)
2016
Université Paris-Dauphine - Advisory Board
2016
European Foundation for Management Development (EFMD) - EQUIS Committee
2015
LUISS School of Business and Management - International Professional and Academic Advisory Board (IPAAB)
2015
China Europe International Business School (CEIBS) - Member of the Board
2014
European Foundation for Management Development (EFMD) - R&D Committee

2010

-

2018

Austrian Agency for International Cooperation in Education and Research (OeAD-GmbH) - Member of the Board

2007

-

2012

UniManagement Turin - Board of Directors
since 2005
European Academy of Sciences and Arts (EASA)

2003

-

2006

Partnership of International Management (PIM) - Chair

2002

-

2015

Vienna Science and Technology Fund - Member of the Board

2002

-

2015

The Global Alliance in Management Education (CEMS) - Member of the Executive Board and Globalization Committee
since 2002
Academy of Management (AOM)

2001

-

2010

Verband der Hochschullehrer für Betriebswirtschaft (VHB)

2001

-

2010

European Association for Institutional Research (EAIR)
since 2001
Consortium of Higher Education Researchers (CHER)

2001

-

2010

Association for the Study of Higher Education (ASHE)

2001

-

2010

American Educational Research Association (AERA), Division J
Member of the editorial board
since 2017
Zeitschrift für Hochschulentwicklung - Member of the Editorial Board
Reviewer for a scientific journal

2000

-

2010

Tertiary Education and Management - Editor
Position in administration

2003

-

2015

Wirtschaftsuniversität Wien - Vice Rector for Research, International Affairs and External Relations

2002

-

2003

Wirtschaftsuniversität Wien - Vice Rector for International Relations

1988

-

1991

Wirtschaftsuniversität Wien - Special Assistant to the Rector
Attendance scientific meeting (Conference etc.)
2017
OECD Conference - 2nd Higher Education Stakeholder Forum
2017
EFMD Higher Education Research Conference - Track Chair
2017
Annual CHER Conference
2016
EUA Funding Forum
2016
EFMD Annual Conference
2016
Annual CHER Conference
2016
Annual AERA Meeting
Other scientific activities
2016
Maastricht University - Search Committee for Professorship in Organization
2016
Finland Academy of Science, Excellence Initiative - Panel Member
since 2015
Center for Higher Education and Science Studies (CHESS), University of Zurich - Public Lectures and Courses for CAS Program (Certificate of Advanced Studies)
since 2007
EQUIS Accreditation, EFMD - Member of the Peer Review Teams