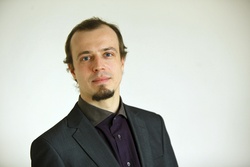 Michael Gregor Miess
Dr.
Michael Gregor
Miess
Telephone:

Email:
Contact information and photo taken from and editable at WU Directory.
Affiliation
CV
No curriculum entries found.
Researcher Identifier
No researcher identifier found.
Awards and Honors
2021

First Prize in research paper competition "Complexity in Macroeconomics", https://www.rebuildingmacroeconomics.ac.uk/research-prize-complexity-macro
Classifications
No classifications found.
Expertise
Publications
Journal article
| | | | |
| --- | --- | --- | --- |
| 2022 | Miess, Michael Gregor, Schmelzer, Stefan, Ščasný, Milan, Kopečná, Vědunka. 2022. Abatement Technologies and their Social Costs in a Hybrid General Equilibrium Framework. Energy Journal. 43 (2) | (Details) | |
Working/discussion paper, preprint
| | | | |
| --- | --- | --- | --- |
| 2020 | Poledna, Sebastian, Miess, Michael Gregor, Hommes, Cars H. 2020. Economic Forecasting with an Agent-Based Model. | (Details) | |
| 2018 | Stefan, Schmelzer, Miess, Michael Gregor, Kopecna, Vedunka, Milan, Scasny. 2018. Modelling Electric Vehicles as an Abatement Technology in a Hybrid CGE Model. Working Papers IES 2018/16, Charles University Prague. | (Details) | |
| | Poledna, Sebastian, Hochrainer-Stigler, Stefan, Miess, Michael Gregor, Klimek, Peter, Schmelzer, Stefan, Sorger, Johannes, Shchekinova, Elena , Rovenskaya, Elena, Linnerooth-Bayer, Joanne, Dieckmann, Ulf, Thurner, Stefan. 2018. When Does a Natural Disaster Become a Systemic Event? Estimating indirect economic losses from environmental disasters. | (Details) | |
| 2015 | Schmelzer, Stefan, Miess, Michael Gregor. 2015. The Economic Cost of Electric Vehicles. | (Details) | |
Research report, expert opinion
| | | | |
| --- | --- | --- | --- |
| 2020 | Poledna, Sebastian, Rovenskaya, Elena, Crespo Cuaresma, Jesus, Kaniovski, Serguei, Miess, Michael Gregor. 2020. Recovery of the Austrian economy following the COVID-19 crisis can take up to three years. Vienna:Policy Brief #26, International Institute for Applied Systems Analysis (IIASA). | (Details) | |
| 2016 | Miess, Michael Gregor, Raza, Werner, Reiner, Christian, Schmelzer, Stefan, Tröster, Bernhard. 2016. Auswirkungen von TTIP auf die österreichische Landwirtschaft und Nahrungsmittelproduktion: Beschäftigungs- und Struktureffekte. Wien:Institut für Höhere Studien. | (Details) | |
| | Miess, Michael Gregor, Schmelzer, Stefan. 2016. Extension of the Empirical Stock-Flow Consistent (SFC) Model for Austria: Implementation of Several Asset Classes, a Detailed Tax System and Exploratory Scenarios. Wien:Institut für Höhere Studien. | (Details) | |