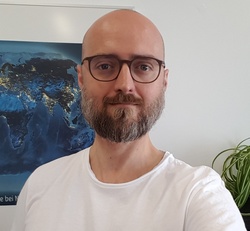 Martin Bruckner
Dr.
Martin
Bruckner
Telephone:

Email:

About me:

Martin Bruckner graduated in Economics and Computer Sciences at the Vienna University of Technology and in Social and Human Ecology at the Institute of Social Ecology (SEC), Alpen-Adria-University. From 2005 to 2013 he was a research fellow at Sustainable Europe Research Institute (SERI). In October 2013 he joined the research group "Global Resource Use" at the Vienna University of Economics and Business (WU), where he works in the field of human-nature-interactions applying methods from environmental accounting (particularly land and material flow accounting). He focuses on the study of resources embodied in trade applying input-output analysis and physical accounting. **Fields of research:** Industrial Ecology, Input-Output Analysis, Life Cycle Analysis, Land use, Global Environmental Change, Environmental Accounting, Material Flow Analysis
Contact information and photo taken from and editable at WU Directory.
Affiliation
CV
No curriculum entries found.
Researcher Identifier
Awards and Honors
Classifications
Expertise
Industrial Ecology
Input-output analysis
Life cycle assessment
Ecological Economics
Activities
Membership in scientific association
since 2019
Global Land Programme - Member of the Global Land Programme
since 2013
International Society for Industrial Ecology - Member of the International Society for Industrial Ecology
since 2013
International Input-Output Association - Member of the International Input-Output Association
since 2013
European Society for Ecological Economics - Member of the European Society for Ecological Economics
Reviewer for a scientific journal
since 2019
Elsevier - Reviewer for Global Environmental Change
since 2019
Cell Press - Reviewer for One Earth
since 2018
Nature Publishing Group - Reviewer for Nature Climate Change
since 2018
Elsevier - Reviewer for Ecosystem Services
since 2017
Nature Publishing Group - Reviewer for Nature Ecology & Evolution
since 2016
Elsevier - Reviewer for Ecological Indicators
since 2015
Elsevier - Reviewer for Land Use Policy
since 2014
Wiley - Reviewer for Journal of Industrial Ecology
since 2010
Elsevier - Reviewer for Ecological Economics
Projects
2019

2017

2016

2015

2014

2013