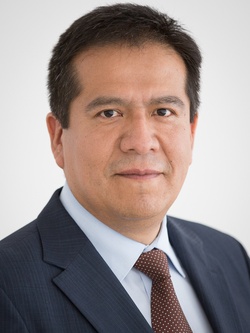 Miguel Suarez Vasquez
Dipl.-Ing.
Miguel
Suarez Vasquez
M.B.A.
Telephone:

Email:
Contact information and photo taken from and editable at WU Directory.
Affiliation
CV
since 2015
PhD Candidate in Economics and Social Sciences - Vienna University of Business and Economics
since 2015
Teaching and Research Associate

1990

-

1991

Master of Business Administration - Instituto de Empresa

1984

-

1989

Industrial Engineering, Bachelor and Master of Sciences - Pontificia Universidad Catolica del Peru
Researcher Identifier
No researcher identifier found.
Awards and Honors
2010

Austrian Award for the most innovative Supply Chain
Classifications
Expertise
Activities
Positions in public advisory boards, Consultant

2004

-

2006

Miebach Logistics, Management Consulting - Partner

1999

-

2003

Accenture, Management Consulting - Senior Manager
Memberships in corporate advisory boards, Leading positions in corporations
2014
Lafarge Central Europe - Purchasing and Supply Chain Manager

2012

-

2013

Swarovski Fashion Jewelry - Supply Chain Director

2007

-

2011

Kotanyi - Supply Chain Director

1994

-

1998

ITT Water Technology - Supply Chain Manager
Research and Teaching Stay
2016
Copenhagen Business School - External Faculty Supply Chain Management
since 2015
Universitas Gadjah Mada (UGM) - External Faculty Supply Chain Management
Attendance scientific meeting (Conference etc.)
2016
EURoMA - EURoMA 2016 Conference
2015
CSCMP - CSCMP 2015 Annual Conference: Education Session Speaker
Publications
Paper presented at an academic conference or symposium
| | | | |
| --- | --- | --- | --- |
| 2016 | Suarez Vasquez, Miguel. 2016. Strategic Supply Chain Finance. EURoMA 2016, Trondheim, Norwegen, 17.06-22.06. | (Details) | |
| 2015 | Suarez Vasquez, Miguel, Schramm, Hans-Joachim. 2015. Exploring the Financial Side of Supply Chain Management. CSCMP Europe 2015 European Research Seminar, Kopenhagen, Dänemark, 23.04.-24.04.. | (Details) | |
| | Suarez Vasquez, Miguel and Schramm, Hans-Joachim. 2015. Can an extended Supply Chain Finance approach become a key company success factor? CSCMP 2015 Annual Conference, San Diego, United States/USA, 28.09.-30.09. | (Details) | |
Poster presented at an academic conference or symposium
| | | | |
| --- | --- | --- | --- |
| 2017 | Kummer, Sebastian, Suarez Vasquez, Miguel, Schramm, Hans-Joachim. 2017. International Summer Universities abroad: An Innovative Way to Foster Supply Chain Management Skills and Competencies. CSCMP ARS 2017, Atlanta, United States/USA, 24.09. | (Details) | |