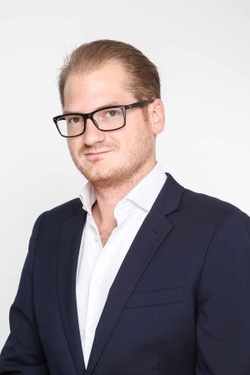 Florian Klein
Dr.
Florian
Klein
MSc,MIM(CEMS)
Email:
Contact information and photo taken from and editable at WU Directory.
Affiliation
CV
No curriculum entries found.
Researcher Identifier
No researcher identifier found.
Awards and Honors
2017

Best Doctoral Thesis Proposal in International Business Award, awarded by the European International Business Academy
Classifications
No classifications found.
Expertise
Activities
Reviewer for a scientific journal
2017
International Journal of Emerging Markets
Publications
Journal article
| | | | |
| --- | --- | --- | --- |
| 2018 | Lindner, Thomas, Klein, Florian, Schmidt, Stefan. 2018. The effect of internationalization on firm capital structure: A meta-analysis and exploration of institutional contingencies. International Business Review, 27, (6), 1238-1249. | (Details) | |
Paper presented at an academic conference or symposium
| | | | |
| --- | --- | --- | --- |
| 2018 | Jia, Nan, Klein, Florian, Puck, Jonas. 2018. Governance Inertia in Dynamic Institutional Environments. EIBA Annual Conference, Poznan, Polen, 13.12.-15.12. | (Details) | |
| 2017 | Klein, Florian. 2017. INSTITUTIONAL DYNAMISM IN INTERNATIONAL BUSINESS – CONCEPTUALIZATION, MEASUREMENT AND FIRM STRATEGIES. EIBA Annual Meeting 2017 - John H. Dunning Doctoral Tutorial, Mailand, Italien, 14.12.-16.12. | (Details) | |
| | Lindner, Thomas, Schmidt, Stefan, Klein, Florian. 2017. The Effect of Internationalization on Firm Capital Structure: a Meta-Analysis. AIB Annual Meeting, Dubai, Vereinigte Arabische Emirate, 02.07.-05.07. | (Details) | |
| 2016 | Lindner, Thomas, Klein, Florian. 2016. The Effect of Internationalization on Firm Capital Structure: a Meta-Analysis. EIBA 2016, Wien, Österreich, 02.12.-05.12. | (Details) | |
| | Weiss, Martin and Klein, Florian and Puck, Jonas. 2016. The Influence of Dynamism on Macroenvironmental Risk and Firms' Risk Management Activities. AIB Annual Meeting 2016, New Orleans, Vereinigte Staaten/USA, 27.06.-30.06. | (Details) | |
| | Weiss, Martin and Klein, Florian and Puck, Jonas. 2016. The Influence of Dynamism on Macroenvironmental Risk and Firms' Risk Management Activities. AoM Annual Meeting, Anaheim, Vereinigte Staaten/USA, 05.08.-09.08. | (Details) | |
Dissertation
| | | | |
| --- | --- | --- | --- |
| 2019 | Klein, Florian. 2019. Institutions and Dynamics in International Business: Conceptualization, Measurement, and Firm Strategies in Product and Capital Markets. Dissertation, WU Vienna. | (Details) | |